Carpet Buying Tips
Heaven's Best often gets asked what we think is the best carpet when our customers decide to get new carpet. Here are some tips when it comes to buying carpet:
Be honest with the carpet salesperson with the traffic flow in your house. If you have many kids/pets, you should not be getting straight white carpet or wool carpet. If your kids/pets are accident prone, be sure to mention that as some carpets fair better in this aspect. If you rearrange furniture a lot, be careful of carpets that are prone to friction burns when moving around heavy objects. Give them as much info as possible so they can steer you in the right direction.
DON'T SKIMP ON THE PAD!!! Getting a nice pad will not cost much more than a cheap pad, but it will pay dividends in the long run. Pad is the shock absorber for your carpet, so the better the pad, the better it will support your carpet over the long haul.
Make sure your carpet is installed properly. If you get great carpet but don't get it installed right, expect to see buckles in your carpet within 2-3 years. Make sure your installers have a power stretcher with them. Not all areas require power stretching, but big rooms do. Also, get 2 quotes, 1 for the cheapest installation price, and 1 for the price with the fewest/best placement of seams. Seams are an area where carpet can have issues, so usually the fewer the better.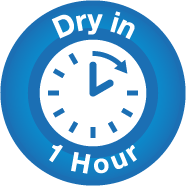 The Heaven's Best Difference
Dry in one hour!
Safe for pets and children
Eco-friendly
Best smelling results in the country
Professional results