Quick carpet warranty tidbits from Heavens Best Carpet Cleaning Denver
Quick carpet warranty tidbits from Heavens Best Carpet Cleaning Denver
Heaven's Best often gets asked about carpet warranties as it pertains to buying new carpet. Here is a good explanation of carpet warranties provided by CarpetBuyersHandbook.com that we like:
Never, under any circumstance, should you base a carpet purchase decision solely on warranty. While the warranty may sound convincing, read the fine print. Most warranties offer very little peace of mind once you understand the warranty coverage.
The most common carpet warranty is a "wear" warranty. The definition of "wear" in the consumer's mind may be somewhat different than "wear" in the manufacturer's mind. Wear warranties were initiated when nylon was attempting to replace wool as the fiber of choice in carpet constructions. Since wool was a natural hair fiber, it had the tendency to "wear" down through abrasion. Bald spots would actually develop in highly trafficked pivot areas. In other areas the wool fiber would become so thin, the backing could easily be seen.
Since nylon was highly abrasion-resistant, foot traffic had very little effect on this tough new fiber. To capitalize on this, a five year wear warranty was issued with all nylon constructions to publicize the fact that nylon would not wear away.
Unfortunately, in the consumer's mind, the definition of wear has been lost. Currently, the consumer has the impression that "wear" relates to maintaining appearance levels. If this is your definition of wear, you are bound for disappointment.
Other warranties such as matting and crushing should be reviewed carefully as well. Matting is the intermingling of yarn tips or untwisting of the yarn. There may be an acceptable loss of twist built into these warrantees that may be unacceptable to the average consumer. These are not absolute warrantees. Crushing, or the flattening of the pile, may have a clause that states if the pile can be restored to within a certain percent of the original pile height, the warranty does not apply.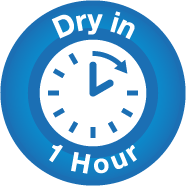 The Heaven's Best Difference
Dry in one hour!
Safe for pets and children
Eco-friendly
Best smelling results in the country
Professional results